If you're in the market for a multimeter, Fluke products such as the Fluke 179 ESFP True RMS Multimeter or the Fluke 87-V Digital Multimeter may have strong appeal. The Everett, Wash.-based company was founded in 1948 and is now widely considered the worldwide leader in the manufacture, distribution and service of electronic test tools and software. All of its multimeter products are designed and built in the U.S.
Multimeters are handheld electronic measurement tools that gage voltage, current and resistance. Analog models use a pointer that moves over a printed scale, while digital ones display the measured value in numerals.
In many ways, the products are similar. Both the Fluke 179 and the Fluke 87-V are digital models and have been tested for safe use in CAT IV 600 V/CAT III 1000 V environments. Both measure 10.6 x 6.3 x 3.6 inches and include a built-in thermometer, eliminating the need for a separate unit to measure temperature.Both have been engineered to function well in loudor chaotic environments. And both come backed by lifetime warranties.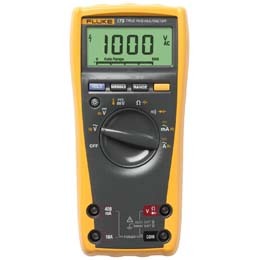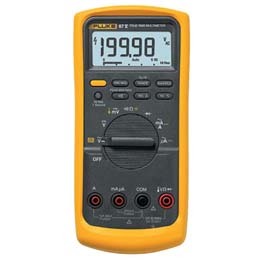 Fluke 179 ESFP True RMS Multimeter with Backlight and Temp
The Fluke 179 is a digital multimeterand can be used to troubleshoot a plant and equipment. The tool featuresTrue RMS AC voltage and current, allowing for more accurate measurements on nonlinear loads. Its large digital display features an analog bargraph and is backlit for work in dark areas.
Features of the Fluke 179 ESFP
Records average, minimum and maximum values to help with troubleshooting.
Comes with 9V battery installed.
Can be calibrated through the front panel without opening the case.
Features an ergonomic case with an integrated protective holster.
Fluke 87-V Digital Multimeter
Fluke's flagship product, the Fluke 87-V is an industrial digital multimeter that features auto and manual ranging for maximum flexibility, as well as an analog bar graph for unstable or rapidly changing signals. It can measure as much as 20 A for up to 10 seconds. The filter can be adjusted for accurate voltage, and an input alert sounds an alarm if the wrong input jacks are used. It weighs two pounds and measures 10.3 x 6.2 x 3.5 inches – perfect for use in small spaces, such as if you work on HVAC units.
Features of the Fluke 87-V
Peak Min/Max lets you capture intermittents as fast 250 µS.
Dual-display resolution makes it easy to see small changes in readings.
Reduces risks associated with power surges and spikes and can withstand impulses up to 8,000 V.
Designed and independently tested to comply with ANSI/ISA S82.01, second edition, and EN61010-1
Comparison
Despite the surface similarities, the products differ in some important ways. The Fluke 179 ESFP is slightly lighter, at 1.7 pounds to the 87-V's 2 pounds. It also comes with a magnetic hanger for hands-free operation, as well as a battery, thermocouple probe, integrated holster and caseand test leads, while most of those components must be bought separately for the 87-V. On the other hand, many users note the probes that ship with the 179 ESFP are made of lightweight plastic and can feel flimsy.
The 87-V may be less accurate at temperatures below freezingand can suffer from cell phone interference, which are not known risk areas for the 179 ESFP. Meanwhile, the 179 ESFP lacks some features found on the higher-end 87-V, such as dual display resolution and power surge risk reduction. It is designed for large-scale use, so it may be less flexible for smaller projects than the 87-V.
In conclusion, both products are excellent for their price points and will serve most engineers and electricians well for many years. However, the Fluke 179 ESFP may be a better purchase due to its lighter weight and the included battery, case and holster.