Fluke has long been a name electricians have trusted for delivering high-quality meters. The company has not disappointed users with the Fluke 1735 power logger. This device offers an entire range of readings that will help identify the most challenging problems electricians may face. We'll explore what it can do and how it's commonly used and make a recommendation based on its specifications and features.
Fluke 1735 Specifications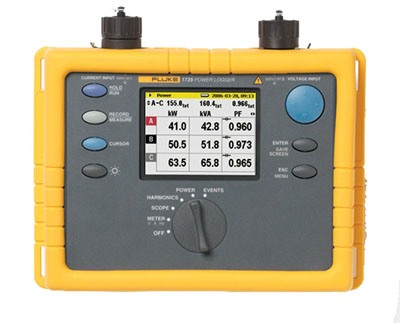 The Fluke 1735 is one of the most versatile analyzers on the market. It is a three-phase power data logger that can assess power quality and energy. It is ideal for performing energy studies and conducting basic power quality logging.
You can set up your new Fluke 1735 in mere seconds. It comes with flexible current probes and features a beautiful color display. It can measure most power parameters and harmonics while capturing voltage events.
It's commonly used in load studies. For this application, you can verify the capacity of the electrical system you are working with before you add any additional loads. You can also perform energy assessments to verify the amount of energy consumed before and after making improvements to justify the use of energy-saving devices.
The Fluke 1735 also measures harmonics. You can deftly check for harmonic issues that eventually damage or disrupt your critical equipment. Additionally, it is ideal for capturing voltage events. You can monitor for any dips or swells that can lead to circuit breaker trips.
Overall, the Fluke 1735 offers the following benefits:
Demonstrates the benefits of making efficiency improvements with its energy consumption test features
Measures harmonic distortions caused by various electronic loads
Accurately improves the reliability of readings by capturing the voltage dips and surges caused by load-switching
Records parameters for a period of up to 45 days
Monitor the maximum demand for power over user-specified averaging periods
Confirms instrument setup with a colorful display featuring trends and waveforms
Measures all three phases and neutral
Displays graphs
Generates reports
The Fluke 1735 has been specifically created to measure the three-phase power parameters. It can also log the following:
RMS voltage
RMS current
Voltage events
Voltage and current harmonics up to the 50th
Phase angle
Voltage and current THD
Power factor
Reactive power
Active power
Active energy
Reactive energy
And even more
Because its memory lasts up to 45 days, you'll have no problem identifying the most challenging issues, even intermittent ones. The device is compact and has a rugged design that won't disappoint you. It is rated 600 V CAT III, making it very safe.
Compared to the Fluke 1734, the 1735 comes up short in the safety department. The 1734 is rated 600 V CAT IV/1000 V CAT III, the highest rating in the industry. However, there is a slight difference between the two modes in which the 1734 is an energy logger, so it will not read the neutral. Because the 1735 is a power logger, it will read it.
Other Features
The Fluke 1735 also sports the following features:
Backlit VGA color display with adjustable on-screen features, such as graphics and text
4 MB flash memory (3.5 MB for data measurement)
10.24 kHz sample rate
NiMH battery pack power supply, but also features an AC adapter
Without using the backlight, the device can run for more than 12 hours; with the backlight on high, it will average 6 hours
240x180x110 mm dimensions
Recommendation
When you need a high-quality power logger that can track essential values across a power supply, the Fluke 1735 presents itself as a strong contender. This device is a powerful tool for any professional electrician to have in their arsenal. We recommend it for professionals who need to make a serious investment in their operation to get the information they need on the spot.
Click here to purchase Fluke 1735 on Amazon.com